International Workshop of NDT Experts and Students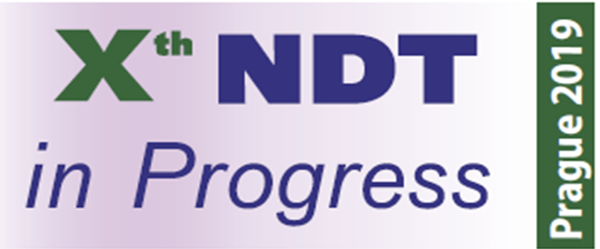 October 7 – 9, 2019, Prague, Czech Republic
1nd Announcement and call for papers
Already 10th International Workshop NDT in Progress 2017 will be organized by the Czech Society for NDT (CNDT) along with the Institute of Thermomechanics of the Czech Academy of Sciences under auspices of ACADEMIA NDT International and European Federation for NDT. This biennial Workshop series started in 2001 co-organized commonly with the German NDT society DGZfP. The primary aim of these unique workshops is exchange of new experiences and methodologies in the NDT/NDE/SHM/CM.
The meeting is intended as for experienced NDT world experts as for young people from all academic and industrial branches, allowing them deep discussions on the latest state-of-the-art of the nondestructive testing and evaluation (NDT/NDE) and their developments in both research and application areas. You and your colleagues are cordially invited to celebrate the 10th Workshop anniversary and contribute to discussions with oral and/or poster presentations. The workshop is also exceptional opportunity for young researchers and students to present their latest work including not yet finished research.
Main topics of the Workshop will cover (not only):
Acoustic & ultrasonic methods; acoustic emission; guided waves; phased arrays.

Radiographic methods; infrared & terahertz waves testing.

Electromagnetic & magnetic methods; optical methods & defects imaging.

Signal & Image processing; nonlinear methods; inverse problems; time reversal.

Structural health and condition monitoring (SHM/CM).

Numerical simulations and modeling in NDT/NDE.

NDT for Industry 4.0
Call for papers:
We would like to invite interesting authors to submit their abstracts and papers in electronic form to ndt2019@it.cas.cz to be included in the printed Workshop's Proceedings indexed in SCOPUS, and published in the OA Journal at www.NDT.net . The official language of the Workshop is English.
(corresponding E-mail address - organizing committee: ndt2019@it.cas.cz )
Basic Dates:
Deadline for abstracts submission (app. 500 words): June 30, 2019
Deadline for full paper manuscript delivery: September 15, 2019
Workshop opening: October 7, 2019
Opportunity for Sponsors and Company Presentations:
Organizing Committee invites all companies to active participation through their corporate sponsorships. Firm representatives will have a possibility of their company presentation in all workshop materials- printed and flash-memory Proceedings advertisements and the Workshop's website.
Page counter since 2018-07-17:000330